As you know at Surety Life, we are avid motorcycle enthusiasts and currently sponsor Bryan Staring. Bryan Staring is a current Australian Superbike (ASBK) rider with BC Performance Kawasaki, a form ASBK champion, MotoGP and World Superbike (WSBK) rider. For something a little different than the usual insurance related article we thought we would delve into the work of motorcycle racing.
How is the all-new Kawasaki ZX10R tracking this season?
As always with new machinery there are often challenges in the beginning. This year was no exception as the bike is completely new, our initial hold up was due to worldwide shipping shortages. The development was delayed and has a knock-on effect throughout the start of the season. We started the season battling for top 10 results and we've now achieved a few top 5's, progress has been great. The new bike has massive potential and is a true race bike, we just need a little more time with it.
COVID-19 has impacted Motorsport all over the country?
Yes, of course. Our racing has been postponed for now and hopefully not cancelled. ASBK is not similar to V8's Supercars in that there are few professional teams and full-time employees. Our series doesn't have the finances behind it for the riders and teams to be permanently on the road keeping the series running. There is some local racing on in individual states, but no Australian championship at this stage.
The upcoming Bass Coast Festival of Motorsport in October looks like it maybe the first racing after this round of lockdowns. The combination of motorcycle racing and V8 Supercars should be great fun, how do you like the combined two- and four-wheel events?
As riders, we love being involved with the V8's. It generated more interest in our series. We find the Supercar crowed have welcomed the superbike racing and show a great amount of interest both in the pits and on the circuit. Most of the fans seem to think we are all crazy in comparison to the car drivers. I'm not sure if that is true, but maybe they're not far wrong. Above all, it is great exposure for our teams and sponsors to be involved with the V8's, we have to thank both ASBK and V8 series management for the collaboration.
What's the MotoGP and WSBK paddock like and how does it differ from ASBK?
The simple answer to that is 'money'. The nuts and bolts of it are the same, sponsors, teams, mechanics, and riders. However, the extra funding these championships have propel them to striving for extra exposure. For example, my MotoGP team had 4 semi-trailers just to run the hospitality, plus I had my own transporter. World Superbike have slightly less infrastructure, and ASBK has considerably less. The one thing that I have learnt is that all the extra infrastructure has no effect on what happens on the circuit. Once we are on the track the job is the same no matter the championship. Outside of that, nothing can match the crowd that MotoGP attracts. For a rider, even one who isn't looking for attention, racing with hundreds of thousands of spectators is a great experience in life. Whilst my international career wasn't as successful as I dreamed it might be, I had some incredible experiences and consider myself fortunate for that.
This year we have seen some insane speeds reached on the bikes including some 360+ kmph in MotoGP, can racing get much quicker?
Racing will always get quicker. At some stage they will need to enforce regulations to limit the speed, I don't imagine this will be in the next 2 years but maybe shortly after. The reason will be that the speed will force the circuits to be upgraded. Worldwide this expense is enormous, and the simple solution is to limit top speed.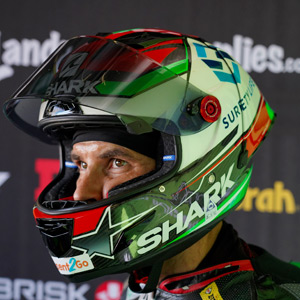 How has safety changed over the years?
Interesting question! There are varying answers to this question based on the series that is specified. World championship series have moved away from venues like Monza and Brands Hatch. There aren't any recent examples regarding circuits that the ASBK have removed from their calendar. I know there are talks going on the background to upgrade some of our circuits here and I for one am desperate to see those discussions executed.
Other improvements are that the bikes are now safer. Even though they are faster, the rider aids available like traction control, make it easier for the rider to define the limits. And outside of that, our riding equipment is constantly improving. We have now seen airbag leather suits and the helmets are lighter and safer than ever. Boots are reinforced with ankle support to reduce the chances of fractures.
To summarise, I would say development of safety equipment is on par with performance improvement, but concrete walls and barriers have not shifted.
How did it all start for you?
My father always had a passion for motorcycles. He raced some local mx events in his younger years but never had the opportunity to pursue it. He and my mother used to tour around the country on the motorcycles prior to my brother and I coming along. I started racing at around 5/6 years old. I immediately loved the bikes and competing. I've competed in either national or world championships every year since that age. Considering how many I've entered I haven't won many. I raced junior motocross until I was 15 then switched discipline to road racing. I started on a 125GP bike then raced through the Australian ranks in 600 Supersport and Superbike. Eventually I was able to win a championship in each category. I then went overseas in my early 20's and had my crack. I'm now in the later years of my career. I continue to love racing and happily compete domestically here. The overriding factor to my success is that my parents were completely devoted to my success, I didn't come from a wealthy family although they gave me every opportunity they could.
Do you consider riding on the road taking a bigger risk than hurtling down a racetrack at 300kmph?
Yes, it is a higher risk. Experience and skill set are the best way to mitigate this risk for motorcyclists. There is no doubt the racetrack is the safest way a rider can enjoy their motorcycle, although every situation has its risks. The racetrack is the best place to learn the skill set that will reduce risk in every circumstance.
Aside from improving skills, mitigating risk is what insurance is for. Seeking advice from professionals like Surety Life will have the biggest impact of all if you are hurt whilst enjoying your hobby. Many people don't realise the exclusions on their policies for riding motorcycles. Investing some time into understanding insurance cover could have an enormous effect on the long term impact of a Sunday ride.
Thanks for your time Bryan, as always been a pleasure chatting with you. Good luck with the rest of the season and we hope the development on the BC Performance Kawasaki ZX10R.